Home Funnels™
Real estate searches online garner 5-100X the amount of interest vs. anything mortgage related. See for yourself:
Mortgage Data: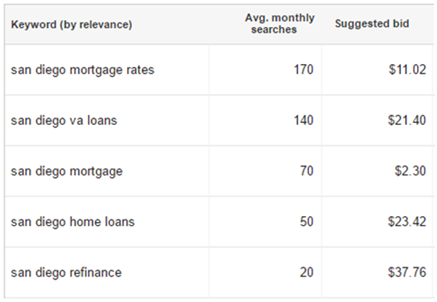 Average monthly search data for
"San Diego mortgage" related key
phrases in Google for August 2016.
Real Estate Data: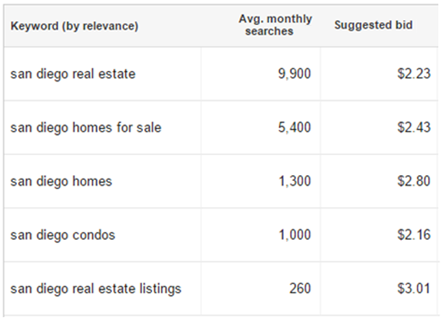 Average monthly search data for
"San Diego real estate" related key
phrases in Google for August 2016.
Mortgage pros trying to generate business focusing on nothing but loan applications and mortgage rates have a tough time getting in front of a large enough audience, and oftentimes find themselves relying on Realtors for leads and referrals (which can be a struggle in and of itself if you don't have the right strategy and a powerful USP).
That's where Home Funnels™ come in.
Home Funnels™ are digital engagement tools specifically designed to capture home buyer and seller leads.
You can literally plug them into anything—websites, landing pages, email blasts, social media posts, real estate signs, direct mailers… you name it—to convert more qualified leads and get a better ROI out of everything you're doing to promote your business.
There's a method to the madness when it comes to engaging consumers online… Deep psychology in terms of how to ask for information and entice people to take action.
After years of testing and building tools for some of the biggest companies in the mortgage and real estate space, including Zillow.com, we've come up with a powerful formula that captures qualified leads better than anything out there.
Optimizing to convert and capture leads is crucial, otherwise you miss out on clients and opportunities you should be closing.
And it's not just a matter of slapping a contact form on a page and crossing your fingers hoping that people will fill out their information… there's a lot more to it than that.
Thankfully, you don't have to figure it out for yourself, because we already have!
Realtors® love Home Funnels™ because they help get more clients out of marketing they're already doing.
Loan officers and mortgage brokers are enamored with Home Funnels™ because they help them tap into a much larger audience… and generate leads not only for themselves, but also for their select partner agents.
That means their USP is actually bringing business to their partner agents, not just promising good service and mooching referrals.
Start a FREE 30-day trial of Home Funnels™ now to see for yourself, and catapult your marketing ROI fast—Click Here.