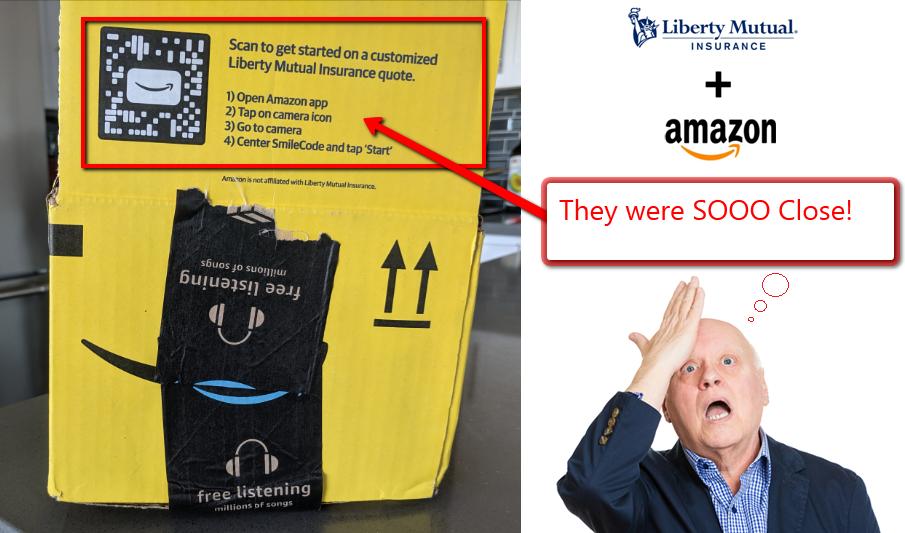 So a yellow Amazon box arrived at my door this morning.
A yellow frickin' box!
Suddenly, I had no interest in its content.
I needed to know who was behind this savvy marketing scheme & what they had in store for me.
Aha!
Liberty Mutual!
I shook my head, mumbling to myself, "You sly dog you!"
The promo features a call-to-action w/ a QR code to scan through the Amazon app for an insurance quote.
I was hopeful they'd execute on this campaign all the way through…
But in my heart, I knew they'd blow it at the most critical moment.
I scanned the code, arriving on a solid mobile landing page.
I tapped the auto insurance quote button, palms sweating…
Aaand the wheels fell off.
They went right for the jugular.
First questions:
Where do you live?
Whoa whoa whoa.
Take it easy there, tiger.
I don't even know you guys & you're already getting all up in my business!
Just couldn't help themselves, could they?
I applaud them on pulling off this partnership.
Great branding play.
The yellow box is quite the spectacle.
But the lead gen effort is where they blew it.
I see this all the time with mortgage and insurance companies.
They do some good marketing…
But few understand lead gen.
A VERY expensive mistake.
Also, an easy fix.
Just call leadPops. 
-Andrew Pawlak
#TakeBackYourLeads
---
Learn More: